_________________________
The new streaming series shines a light on the traditional practice of Indian arranged marriages, and spotlights one of the country's most sought-after matchmakers as she attempts to set singles up around the world.
Fans have been wondering where many of the subjects of Indian Matchmaking are after filming. While we've already covered some fan favorites, like Nadia, Shekar, and Akshay, many viewers are wondering what happened to single mom Rupam. Keep reading while we investigate!
Who is Rupam?
We first meet Denver-based Rupam, 36, when she's cooking with her father. "My Indian background is Punjabi Sikh," she says upon introduction. "I came here when I was three years old, and when we first came to this country, my parents insisted that we only speak Punjabi in the house."
The single mom was previously in a love marriage to a man who was also Sikh. "Unfortunately, the relationship did not work out," she says, adding that many divorces, Indian or not, "feel like a failure" after a split.
Rupam and her ex were together for eight years, until "the breaking point was infidelity," and she decided "that was the deal breaker."
She struggles with the "stigma of being a single mother," and tells matchmaker Sima that she underestimated how hard it would be to find someone else at the time of her divorce.
Who does Rupam end up with?
Following the failed first match, Sima ends up sending Rupam the biodatas of two other Sikh men, and it turns out that Rupam had already gone on a date with one of them. But in a twist, Rupam reveals to a friend that she actually met someone through a different arrangement: the female-forward dating app Bumble.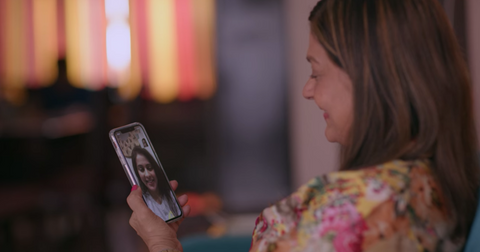 "He's a Sikh guy," she reveals, sounding absolutely smitten about her online match. Like her, he too is a single parent. "Just a really humble guy," she adds, saying that she chatted on the phone with him right after they matched, and have been communicating on a daily basis since.
On a visit to New York to see her sister, Rupam reveals to the family she has been in a long-distance relationship with her Bumble man, and has gone to the lengths of deleting all her other dating profiles so as to "focus only on him."
"Some of the things Sima said to me really helped me in my relationship to the guy she didn't introduce me to," Rupam says, "because she emphasized the importance of only focusing on one person at one time."
Rupam is "hopeful" things will work out between them despite the fact that their partnership is not arranged, since their relationship "feels easy and not like work," despite it being long distance.
While Rupam isn't readily findable on social media, we trust that this ultra-confident woman is living her best life.
Stream Indian Matchmaking on Netflix today.




Source link
.  .  .  .  .  .  . .  .  .  .  .  .  .  .  .  .   .   .   .    .    .   .   .   .   .   .  .   .   .   .  .  .   .  .

_________________________