Scammers posing as Australian actor Alex O'Loughlin are preying on vulnerable female fans of the Hawaii Five-O star, with some victims losing tens of thousands of dollars to catfishing schemes.
9news.com.au
first revealed
in February the case of a NSW woman who lost $35,000 to a catfisher who claimed to be O'Loughlin.
Since then, 9news.com.au has been contacted by several O'Loughlin fans who said they believed they were in love with O'Loughlin, only to be left gutted after finding out they had been catfished.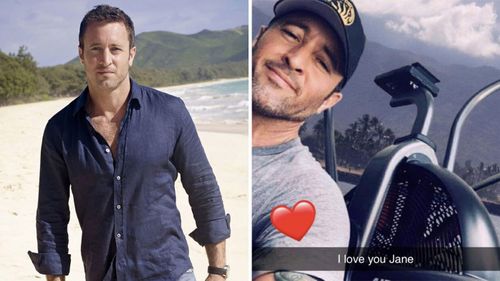 One of those women is Jane, who asked for her surname to be withheld, from Wollongong, south of Sydney.
For more than two years – from May 2021 until last month in September – Jane thought she was in a relationship with O'Loughlin and that they were going to get married.
In order to convince her that they were legitimate, Jane's scammer deepfaked video calls and sent her mocked-up photos of a passport, driver's licence and divorce certificate – all purportedly belonging to O'Loughlin. 
Over the two-year period, the scammer wiped out Jane's entire life savings of $45,000.
"It's broken me. I've had to move back in with my parents because I couldn't afford to pay the rent," Jane, who works as a cleaner, said.
9news.com.au does not suggest O'Loughlin, who is based in Hawaii, has any connection in any way to Jane's scammer, or any of the others. Instead his identification has been illegally used to trick others.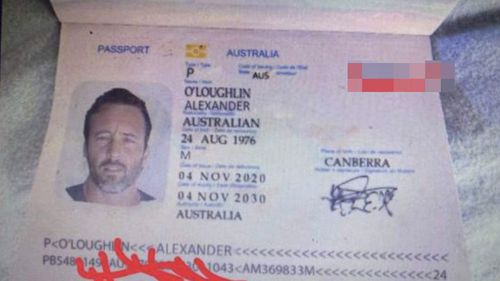 O'Loughlin's Australian representative previously told 9news.com.au the actor's agent and lawyer in the US were aware of the matter.
O'Loughlin's US agent did not respond to 9news.com.au's requests for comment for this latest story.
The scammers are known to set up fake social media accounts under the same name as the 47-year-old Canberra-born actor, who starred alongside Jennifer Lopez in the 2010 movie, The Back-up Plan.  
Jane said the nightmare all started for her when she liked a Facebook account called "Alex O'Loughlin Private".
Soon after, she received a message from another Facebook account, named "Alex O'Loughlin official".
"The message just said, 'Hi, how long have you been a fan?' And he asked what movies did I like him in," Jane said.
After a month of exchanging messages on Facebook, the scammer directed Jane to move their chat to the encrypted messaging app Telegram.
"He said he wanted us to be able to chat in private, where no one could hack into his account and find the messages," Jane said.
It was then that the scammer made his first request for money, asking Jane to join an exclusive O'Loughlin membership club for $3000.
"I paid it out of my tax return, I gave him my whole tax return," she said.
Savings and salary drained
Jane was directed to pay the money in Bitcoin, with instructions for how to purchase the online currency on a trading platform coming via email from someone claiming to be O'Loughlin's manager.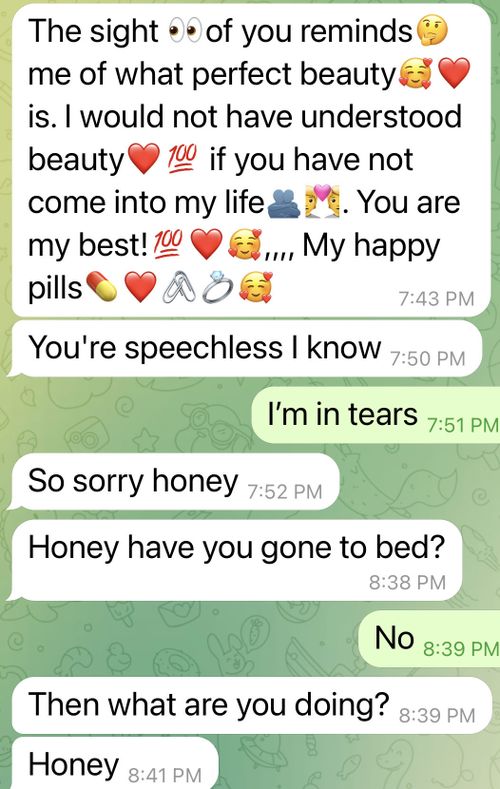 Over the next few months the relationship turned romantic, Jane said, with the scammer masquerading as O'Loughlin telling her he had divorced his wife.
While Jane said she was sceptical about why a famous actor would want to pursue a relationship with her, a woman he had never met, the scammer had all the right answers.
"I called him on it and said, 'I'm just an ordinary woman, why would you be interested in me?' He told me he knew heaps of people who married people who weren't famous," she said.
Over hundreds of messages, the scammer professed his love for Jane, sending photos of a ring and vowing they would get married.
But, all the while, there were demands for cash, with the scammer claiming his ex-wife had blocked access to his bank account.
"He said he got into a car accident with Scott (O'Loughlin's co-star Scott Caan on Hawaii Five-O) and there were hospital bills," Jane said.
"They wanted money for everything, his power even got cut off at one point," she said.
"I had $15,000 saved and then each week, when I would get paid from work, I would send the money to him." 
Jane paid thousands of dollars for the man she believed was O'Loughlin to fly out to Australia to meet her this year.
The visit also came with requests for money to pay for security, aviation fuel and to fix a fault on the private plane.
Things turned farcical, however, when the scammer, posing as O'Loughlin's manager, claimed the actor had been kidnapped after touching down in Australia and a ransom was being demanded.
"That's when I started to get suspicious," Jane said. 
"If someone that high-profile got kidnapped it would be all over the news, it would be everywhere.
"The manager wanted $5000 and I refused to pay it. I said, 'Send me the ransom note and I will take it to the police' and he said, 'no'."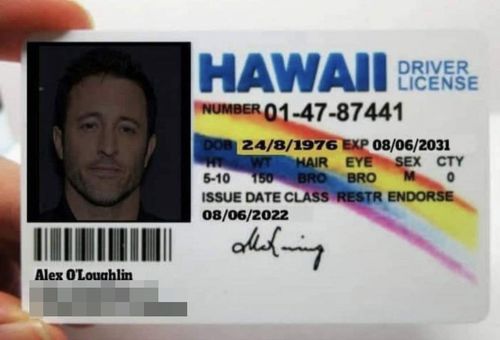 Jane said was still trying to deal with the emotional and financial fallout from the scam, adding that she felt too ashamed to tell her friends or family what had happened.
"I now know it's all lies. I can't even watch him on TV anymore without bursting into tears – I just change the channel," she said. 
Jane said she was still responding to the scammer's messages and had reported the case to police in Australia and Hawaii.
However, police were yet to follow up on the matter, Jane said, adding she felt like she was left with nowhere to turn.
"I need help, but it seems like there is no one who will look into this," she said.
Romance scams are one of the most common ways Australians are being defrauded out of their savings, but the true extent remains unknown as many victims are too embarrassed to come forward.
So far this year, Australians reported $27.5 million in romance scam losses to the Australian Competition and Consumer Commission's Scamwatch.
The most common delivery method for romance scams is via social media. 
Meta, the owners of Facebook, advises users to check whether an account is verified in a bid to avoid celebrity impersonation scams.
A celebrity's account will carry a blue tick if it has been verified.


Click Here For The Original Source