The job advertisements were too enticing to scroll past — marketing and administration roles at a lavish casino in Cambodia, with high salaries and paid accommodation.
For Nokyoong, a 26-year-old Thai single mother of three, and her cousin Neung, 40, it seemed like an incredible opportunity to make money for their family.
As soon as they saw the ads on Facebook they contacted the recruitment agent, speaking multiple times to find out the details before signing up. 
But within a day of arriving in Cambodia's casino capital Sihanoukville, their hopes were crushed.
They found themselves locked in a crowded compound, tricked into handing over their phones and passports, and working for a Chinese-run investment scam.
Over several months they tried to leave and raise the alarm. They say they were either tortured, threatened with torture, or forced to watch other people being tortured.
"I was so afraid I wouldn't see my kids again," Nokyoong told the ABC.
"I was afraid that I would be killed over there, I saw how they beat people."
With Nokyoong's three children, all aged under 10, back in Thailand with her aunty and relying on the money they had hoped to send home, the cousins were desperate to get out. 
Little did they know, they were among thousands of vulnerable workers across South-East Asia lured by human traffickers into the murky web of online scams. 
Inside the call centre scam
As soon as they got to their new workplace, Nokyoong and Neung (whose names the ABC has changed to protect their identities) knew something was amiss. 
"When we arrived at a casino in Sihanoukville, Thai and Chinese people took us to a building and the door was locked," Nokyoong said.
"The room was like a cage with iron bars, we couldn't get out, it was like prison."
They say they were made to work in a call centre, using dating apps on mobile phones to meet people looking for love.
Once they had established online conversations, they were told to pass the people's details on to a "chief" who would continue the chat and trick people into sending money for bogus investments.
Neung told the ABC they were expected to lure up to five unsuspecting investors every day. 
"We felt so bad doing that, but we were locked up and force to cheat people," he said. 
Nokyoong and Neung, as well as others who were trapped, tried to contact Cambodian police and foreign embassies, but it was difficult to do without being caught.
"A Vietnamese man was caught asking for help from his embassy, and the [scam leaders] told everyone to watch and started hitting him until a bone popped out from his leg," Nokyoong said.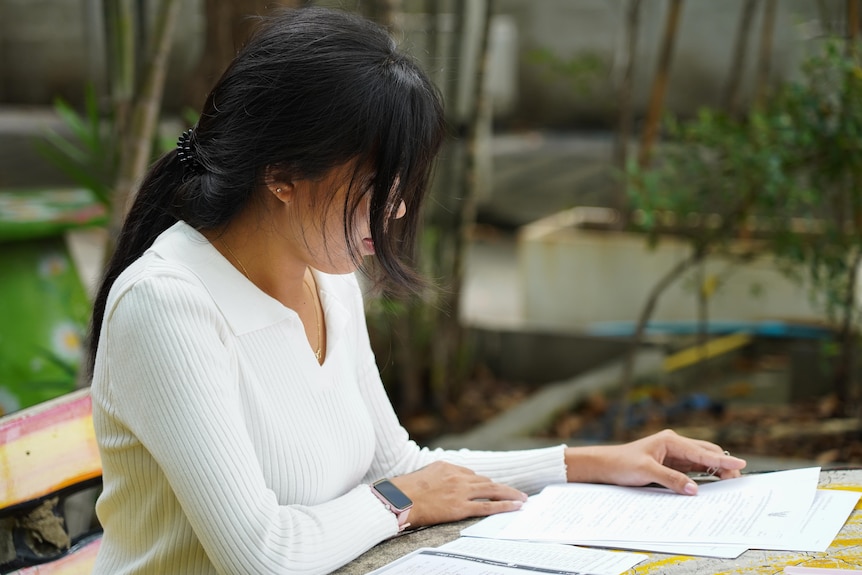 After Neung was caught trying to contact Thai authorities, he says he was moved to a different compound and tortured there. 
"I was struck with an electric baton and hit on the face," he said.
"I thought I might not survive."
Nokyoong feared for hers and her cousin's life.
"They're bad memories that I'll never forget," she said. 
Children as young as 12 being tricked into labour scams
Jaruwat Jinmonca, the co-founder of anti-human trafficking organisation the Immanuel Foundation Thailand, says Nokyoong and Neung's account is terrifyingly common.
He told the ABC that an estimated 3,000 Thai victims have been tricked into working for labour scams in South-East Asia this year, some as young as 12 years old.
"It is a big problem and numbers are increasing … more people have been lured into these scams because of the dire economic situation from COVID," he said.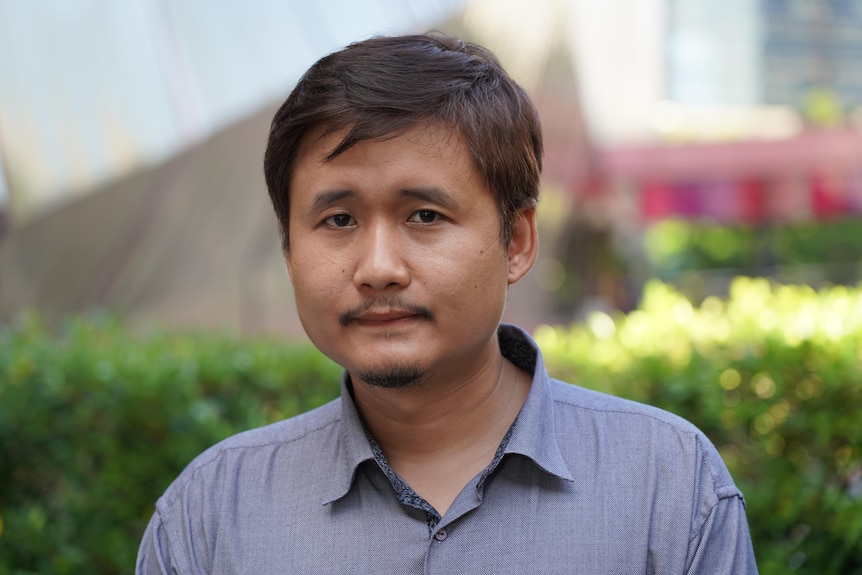 Mr Jaruwat says governments in South-East Asia, especially Myanmar and Cambodia, have not been taking the issue seriously.
"They don't see that human trafficking is happening in their countries, and they look at call centre scams as a problem of a few Chinese [people] who rent a building and don't create so much damage," he said.
"When victims are rescued, the traffickers are not charged, they just move to new places."
According to the US State Department's 2022 Trafficking in Persons Report, Cambodia, Myanmar, Vietnam, Brunei, and Malaysia failed to meet the minimum standards for eliminating trafficking, and were designated the lowest rating, tier 3.
Thailand was upgraded to tier 2 status with the report noting the country did "not fully meet the minimum standards … but [was] making significant efforts to do so".
It noted a decrease in prosecutions and convictions compared with the previous year, difficulty identifying victims and gaps in services for victims were issues of concern.
The report credited Thailand with initiating investigations against corrupt officials and sentencing two to jail time, but said more work needed to be done.
"Corruption continues to undermine anti-trafficking efforts," the report said.
"Some government officials are directly complicit in trafficking crimes, including through accepting bribes or loans."
Deputy Secretary-General of the Prime Minister Police General Tamasak Wicharaya, who oversees the government's anti-trafficking response, said the Thai government had laws in place to crack down on corrupt officials in this area.
"We cannot tolerate it. We apply penalties and legal action against them," he told the ABC. 
"This year we so far have around 25 individual officials being charged and [over a] seven-year period of time, we have [charged] more than 90."
Escaping their scam prison was far from the end of the ordeal
By early July, six months after they were first lured into the scam, Nokyoong and Neung were finally able to leave. 
In a joint Cambodian-Thai Police operation, the Sihanoukville call centres they worked in were raided and shut down and 74 Thai workers were detained. 
Nokyoong says they were held in a Cambodian hotel provided by the Thai embassy for around a month while police investigated. They were then taken back over the border by bus. 
"Thai police told me they would help me to be categorised as [a] witness and told me not to stress because they would help me," Nokyoong said.
"But when I arrived back in Thailand, they put us in jail for three days and treated us like criminals."
Neung says police explained that they needed to issue arrest warrants in order to get the Thai workers out of Cambodia.
"We felt relieved and did whatever they said," he said.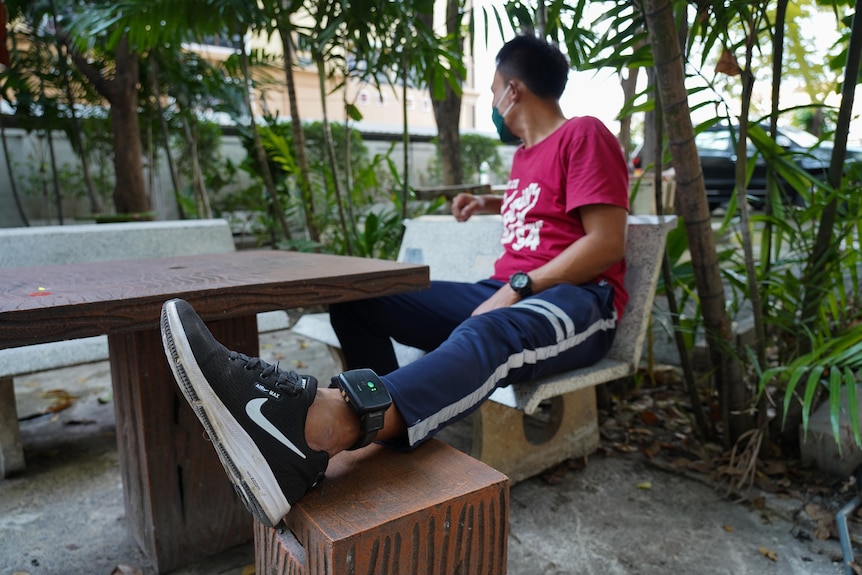 They were given bail and hoped that would be the end of it, but almost a year on, their ordeal is far from over. 
Along with 22 others, Nokyoong and Neung are now facing fraud charges in Thailand.
It will be up to the court to decide whether they were victims or criminals posing as victims.
Their trials are not expected to begin until the end of May 2023.
Police see some scam victims as 'part of the gang'
Mr Jaruwat's organisation has rescued 374 Thai victims of human trafficking in South-East Asia this year, and continues to help those caught up in labour scams to defend themselves in court.
"We worked with police, we told them they were victims, we showed them evidence, but police did not listen. They charged them," he said.
"The police have their targets … they set the goal as getting rid of the call centres, but they have not tried to understand the victims' situations."
General Tamasak said Thai authorities must conduct a thorough investigation including a comprehensive victim screening process. 
"Many [people] are innocent, having been trafficked [while] seeking economic opportunities such as working in an entertainment complex, but some turn out to be part of the gang," he said.
"Some receive criminal proceeds and benefit from quite a large [amount] of money and they are no longer victims.
"This is a very awkward situation and very complex but we have to be unbiased."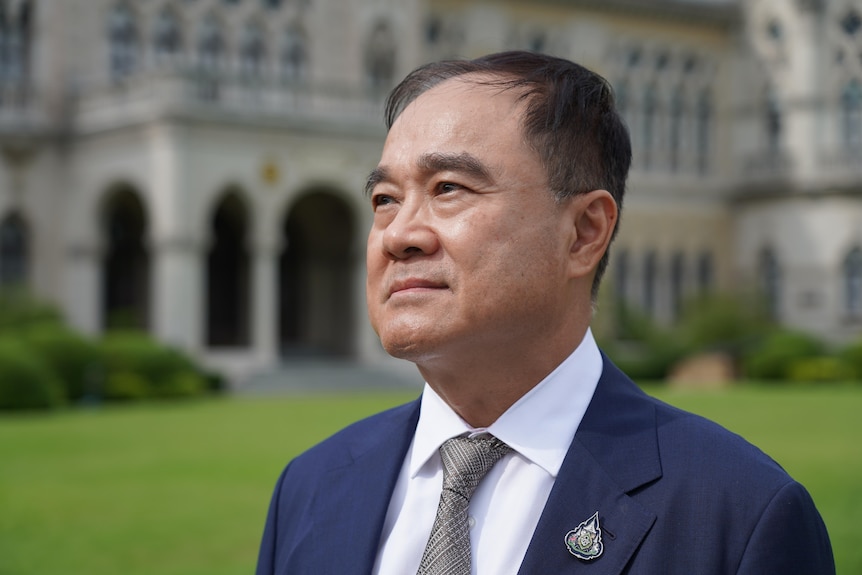 Nokyoong and Neung confirmed they were paid by the traffickers for around half the time they were trapped in the scam — the equivalent of a few hundred dollars a month.
They are hoping this fact will not cloud their criminal cases.
If it sounds too good to be true — it's probably a scam
Thailand is stepping up its efforts to help victims and try to track down the transnational criminal networks that target them. 
In the new year it will open a centre of excellence in Bangkok to counter human trafficking — a facility General Tamasak said he hoped would become the "authority" on the issue in the region.
Australia will provide technical support to help Thailand design the centre and get it up and running, and assist with developing a new national curriculum for counter-trafficking, with a focus on gender-sensitive, victim-centred approaches.
With fraud charges hanging over their heads, Nokyoong and Neung are still haunted by the scam that snared them. 
"Now we are charged with a crime and can't apply for jobs, we can't do anything," Nokyoong said.
The cousins fear the "big fish" will never be caught, but they hope that by speaking out other people will learn from their experience.
"I want to warn people, don't just look at a post telling you 'good job, good money', it's not like that, it's a slave job," Neung said.
Nokyoong warned people to think carefully before jumping on irresistible offers.
"There are so many scammers out there and I don't want anyone to go through what we have," she said.


Click Here For The Original Story