1080P HD Hidden Water Bottle Spy Camera Motion Detection Camcorder
TM86034935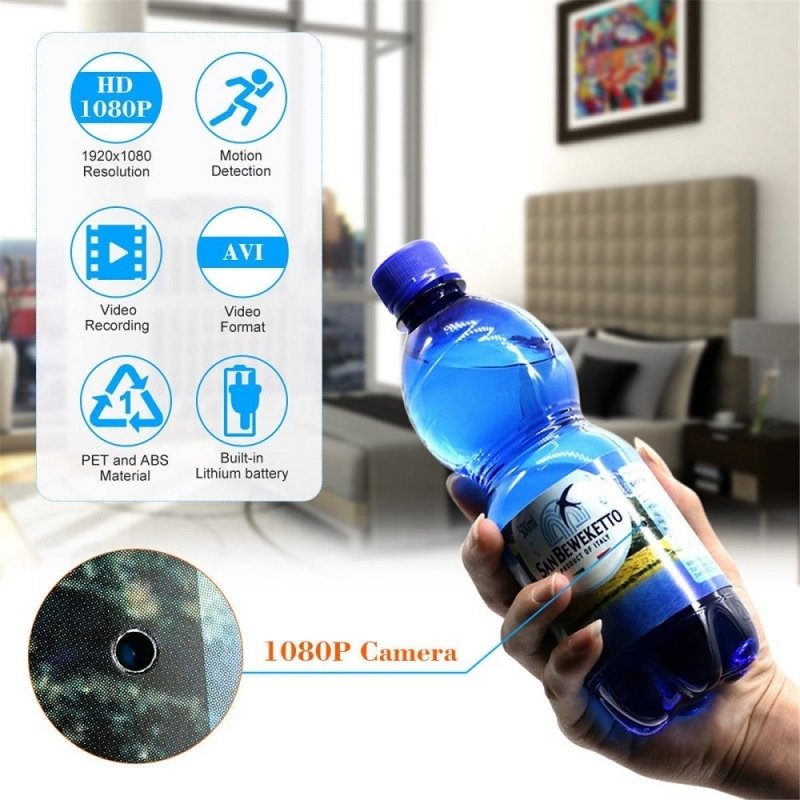 We are glad to share you 1080P HD Hidden Spy Camera DVR Surveillance Bottle Camcorder Motion Detection.This hidden bottled water is just the item you need if you are looking for a covert camera on the go. It looks exactly like any other bottle of water but it also contains a built in camera. You should not let the opportunity pass by if you are interested in this item! Get it.
Additional:
1. Material used in the food industry PET material, can withstand high-temperature 60℃. Can be filled with pure water, drink.
2. Can´t turn on the camera: Pls charge the camera for 2h before using.
3. Can turn on the camera but can′t work: Pls check if the memory card insert into the camera or format the memory card.
4. Can´t be recognized by PC: Pls check if the camera connect to pc well, it is best to connect the camera to the usb port on the back of the pc.
5. Can´t play the video well on pc: Pls check the pc configuration, player software, VLC player is recommended.
FEATURES
It is a water bottle and can be a HD spy water bottle camera
It supports video recording
And it also can be a removable disk Additional:
Material used in the food industry PET material,can withstand high-temperature 60?.Can be filled with pure water,drink
Cant turn on the camera: Pls charge the camera for 2h before using
Can turn on the camera but cant work: Pls check if the memory card insert into the camera or format the memory card
Cant be recognized by PC: Pls check if the camera connect to pc well,it is best to connect the camera to the USB port on the back of the pc
Cant play the video well on pc: Pls check the pc configuration,player software,VLC player is recommended
Specifications
Model
K3
Control Chip
Generalplus 1247
Lens Model
GC 1024
Battery Capacity
400MA Pure Cobalt
Bottle Material
Imported PET Food Grade
Injection Molding Material
ABS Translucent
Video Resolution
1920*1080P AVI
Motion Detection

Hidden function

when it is in the standby mode, continuously press the button for 2 times within 0.5s, then the led light will flash for 5 times, next it will enter the motion detection mode.In this mode, the led light will not flash.

TF Card Support
Up to 64GB (Not Included)
Working Life
Up to about 180mins When Charge Fully
Change the Time
Create a File Named "Time.txt"
Charging
5V Charger
Package Includes
1x Bottle Body(Not Memory Card)
1x Camera Body
1x Cap
1x Charger
1x USB Cable
1x User Manual