2pcs 8GB Keychains Digital Voice Recorder USB Flash Drive Black
TMBD106512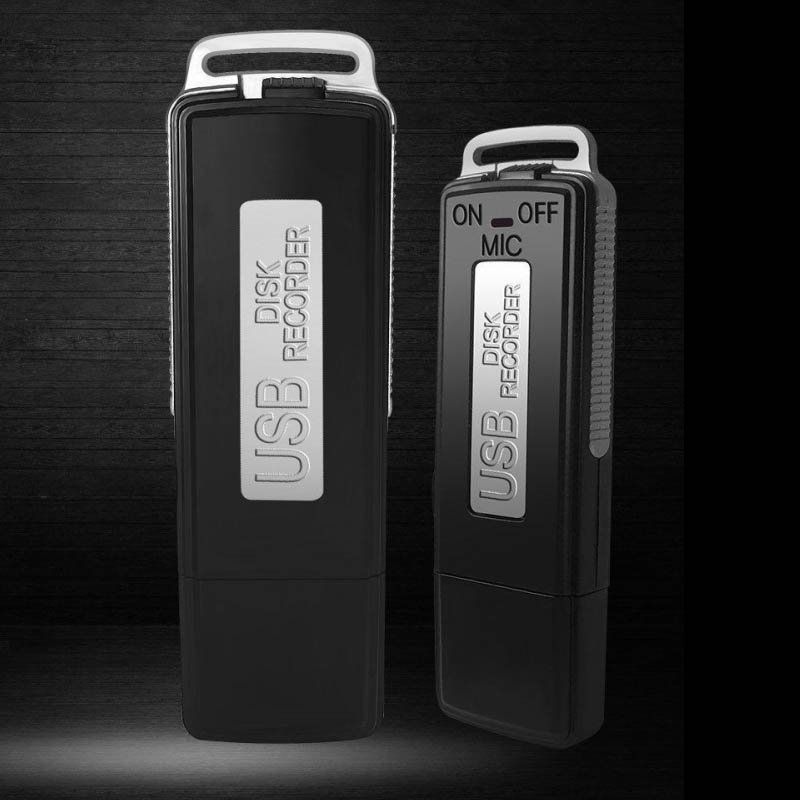 FAQ of Digital Voice Recorders:
Problems

Causes

Solutions

Nothing appears on the LCD screen

1. Out of battery
2. The batteries are not loaded properly
1. Replace with new batteries
2. Make sure that the batteries are installed in correct polarities

Unable to record

1. The recorder is in HOLD mode
2. Memory full
3. The recorder is in VOR (voice-operated recording) mode
4. Low battery

1. Slide "HOLD" to "OFF"
2. Delete the unnecessary files and then record
3. In VOR mode, the recorder cannot recognize the low voice outside, thus you need speak louder
4. Replace with new batteries

Cannot play

1. The recorder is in HOLD mode
2. No recorded files
3. The volume is set to "0"
4. Low battery
1. Release the recorder from the HOLD mode
2. If there is no file, the screen would display "no file", so please check the file folder firstly
3. Adjust the volume
4. Replace with new batteries

No sound from the loudspeaker

1. The volume is set to "0"
2. The earphone is connected to the voice recorder
1. Adjust the volume
2. Unplug the earphones and try again

The recorder cannot connect to the PC successfully

1. The driver is not installed successfully
2. Error occurs in the USB driver
3. Low battery
1. Install drive correctly and then connect the recorder to the PC
2. Reinstall the USB driver
3. Replace with new batteries

Buttons do not work

The voice recorder is in HOLD mode
Release the recorder from the HOLD mode
Here′s a guide to digital voice recorder features to help you make the right choice.
Recording Time
Recording time is the foremost technical index of digital voice recorder. The higher the quality of the recording is, the fewer hours of recording time will be available. Be sure to check how long the digital voice recorder can record in high quality mode.
Data Storage
For business purposes, it′s handy to have a digital voice recorder that can handle more than just voice files. Digital voice recorders with USB mass storage class support can store other types of files, such as documents and images, as well as audio. Another aspect of data storage to look for is the ability to organize your files.
Recording Features
Look for a digital voice recorder with a full range of features to make managing your recording tasks easier. For instance, voice activation feature that makes it stop recording automatically whenever there′s a period of silence.
Connectivity
PC connectivity is a "must have" feature that the most inexpensive digital voice recorders don′t have. Thus you should look for a digital voice recorder that does allow you to transfer audio files directly to your computer′s USB port.
Transcription
You should look for some digital voice recorders that come bundled with voice recognition software or their own proprietary transcription software; in other cases, you will have to purchase it separately.
Stereo Microphone
Choose the digital voice recorder with the best microphone sensitivity. This is the most important element to look for in a voice recorder, digital or analog. Usually, stereo microphones capture high-quality sound compared to others. It should also provide a high-quality sound playback.
Description
When do you need a digital voice recorder?If you have a digital voice recorder you will be able to:
1.There is direct USB connectivity to your PC, while drag-and-drop file transfer makes it a breeze to move files between devices without the need for additional software.
2.As the digital voice recorder looks like a USB data stick, the interviewees will never aware it and don′t feel nervous in the interview. Thus you can easily record their conversations discreetly.
3.Don′t worry about missing any important conversations during the meeting. Take the digital voice recorder to the meeting and record the overall process.
4.It does happen that something important completely slips your mind. Therefore, you really need a digital voice recorder to keep track of your important thoughts about your work.
Are you worried about missing important conversations while you can′t recall them according to your memory or handwriting? Do you want to catch all the main points of the conference? This 8GB Keychains Digital Voice Recorder USB Flash Drive UR-08 Black will be a good helper. Looking just like a USB data stick, this voice recorder is the perfect pocket-sized way to record discreetly or covertly. It supports WAV formats, will be your good partner. This voice recorder features simple one-key recording and longtime recording-no software to install. Not only does it make audio recordings, but it also works as a regular USB flash drive. What a functional voice recorder that provides great convenience in class-recording, conference-recording as well as note-recording.
FEATURES
The keychain design allows you to connect it with key and you can hang it on bags, cellphones as a ornament
The special U disk shape, it will never aware the recording and do not feel nervous
This digital voice recorder has a 8GB built-in flash memory card
Support U disk function, add a more convenient function for you
Rechargeable li-ion battery
Featuring one-key recording, easy to use
Long time voice recording, it is a best choice and good assistant for you
This digital voice recorder supports windows 2000/XP/vista/7
Built-in microphone, enable direct calls
Specifications
| | |
| --- | --- |
| Memory | 8GB |
| Quantity | 2pcs |
| Recording Time | About 140 hours |
| Record Formats | WAV |
| Music Formats | WMA |
| Power Supply | Li-ion battery |
| Recording Bitrate | 128bps |
| USB Port | 2.00 |
| Frequency Response | 20Hz-20KHz |
| Color | Black |
Package Includes