Digital Alarm Clock with Pinhole Camera + Motion Sensor Blue
TM86TT5214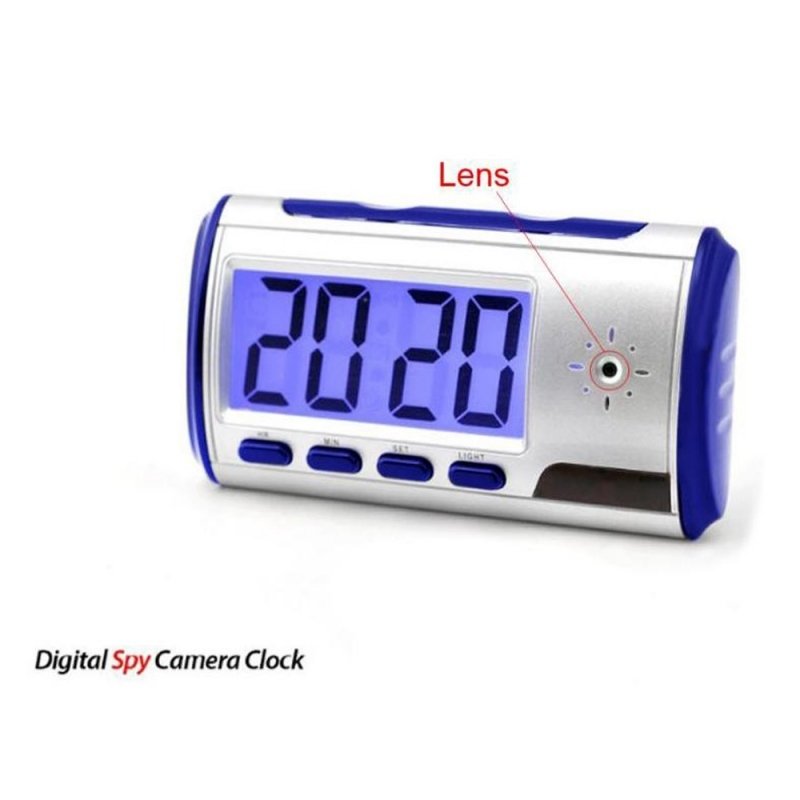 1. Hidden spy cameras can provide a great benefit to people if they use them properly. For many people, the reason that they use a hidden camera is to keep watch and monitor people, places and things they they′re concerned about. For parents, a hidden nanny cam is a great tool to use when checking out how your babysitter is treating your children when you′re not there. For business owners, hidden spy cameras are helpful in keeping close tabs on your employees and making certain your inventory is kept safe while you′re away. However, in order to get the maximum benefit from a hidden camera, you first have to know the right way to how to use a hidden camera. That′s because, if you use a hidden camera incorrectly, you can actually be in violation of privacy laws. But, proper hidden camera usage is a great weapon against theft, lies and deceit
2. When it comes to how to use a hidden camera, you should first be aware of the ways in which to not employ a spy camera. Placing a hidden camera like the Hidden Camera Phone in private places like washrooms is strictly forbidden. Even if you place it in your own home or business location, you are still invading people′s expected privacy. Even though you want to think that you know how to use a hidden camera - you still have to be mindful of other people′s privacy and rights. However, that being said, there are proper ways and reasons as to why and how to use a hidden camera
3. Hidden spy cameras are great for covert surveillance of a protective or investigative nature. For example, if you think or suspect that your children′s babysitter is abusing or mistreating your kids when left in their care, then it′s perfectly logical and reasonable to use a camera that′s hidden. Cameras like the Air Freshener Camera Wireless are perfect disguises if you have any hunches and want to catch them in the act. You can place them in any public location in your home - like your child′s nursery, in the kitchen or even in the living room. The secret key to how to use a hidden camera effectively is to place it in an area that won′t attract attention to it, but at the same time has an unobstructed view of everything that′s going on. Remember, after you purchase your nanny cam but before you set it up, it′s best to first know how
4. To use a hidden camera at your office or business is another tactic that people often use. Maybe there′s a sneaky co-worker who′s always trying to pass off your hard work as their own. Without concrete video evidence, it can be challenging to accuse someone of behaving in an immoral manner without proper proof. But, learning how to use a hidden camera such as the Book DVR Cam gives you the video footage you need so that, if someone does try to steal your work, you′ll be able to call them out on it. Spy cameras can be excellent tools at home, the office, or even out in public - but only if you take the time to learn how to use a hidden camera in the right way
5. For portable surveillance, there are special techniques that you have to be aware of when it comes to knowing how to use a hidden camera. There are hidden nanny cameras that you can purchase which are disguised as everyday items you would take with you on the go; one such example is the Color Sunglasses Camera. You can take this spy camera with you when you want to follow someone you don′t trust. Maybe your spouse is acting strangely, and you want to know where they′re going, what they′re doing and who they′re meeting. Portable or body-worn hidden cameras are great tools to use on your secret recording mission. But you have to remember that, when recording in public, only focus on your subject and ensure that you follow all your local laws as they pertain to how to use a hidden camera
Description
Be indispensable to your life!
This
Digital Alarm Clock with Pinhole Camera + Motion Sensor Blue
is a perfect combination of an undetectable alarm clock and a practical surveillance gadget. As an alarm clock, it has the features of keeping accurate time and being cheap. As a surveillance device, it can be set up in your home, office or shop to see what is going on. It is a covert way to keep an eye on the place for a long time. At the shop, the device will help you catch shoplifters, or employees goofing off or being in places they should not be. Besides, it can be used as a PC camera and a removable disk. The value of this device goes beyond its price! Don′t hesitate to get this device!
FEATURES
Support long-distance and one-touch recording
Keep personal data and privacy confidential with high-quality monitor
Support video recording and PC camera function
The time can be displayed in a 3.5-bit LCD panel under the 12-hour or 24-hour system
Two optional on-the-hour alarm functions
Support snooze function with 10 minutes′ alarm interval and up to 6 alarm times
Multiple alarming sounds for options: Beep, rooster′s crow and five melodies
Beep sound of the alarm clock will be swelled to a crescendo and will last for 1 minute
The clock will tell you the time after the alarming sound ends
Ensure the safety of families, hotels, or small shops, etc.
Support up to 32GB mini SD card
5 buttons: HR, MIN, SET, LIGHT, TALK / SNZ
Specifications
| | |
| --- | --- |
| Pixel | 2.0 mage pixel |
| Resolution | 720 x 480 |
| Video Format | AVI |
| Frame Number | 30 fps |
| Vision Angle | 72° |
| Minimal Illumination | 1 LUX |
| Support Mini SD Card | Up to 32 GB |
| Player Software | Media player / KM player |
| USB Interface | USB 1.1 / 2.0 |
| Operating System | Win 2000 / XP / 7 |
| Charging Time | About 4 hours |
| Battery Capacity | 2200 mA |
| Contimuous Recording Time | Over 12 hours |
| Remote Operating Distance | 15 m |
| Power Consumption | 130 mA / 3.7 V |
| Storage Temperature | -20℃ ~ 80℃ |
| Working Temperature | -10℃ ~ 60℃ |
| Working Humidity | 15 ~ 85 % RH |
| Size | 104 (L) x 30 (W) x 59 (H) mm / 4.09" (L) x 1.18" (W) x 2.32" (H) |
| Color | Blue |
Package Includes
1 x Digital Alarm Clock with Pinhole Camera + Motion Sensor Blue
1 x USB Cable
1 x Remote Cable
1 x CD Driver